UUMAO Magsafe Invisible Wireless Charger 8-30MM(0.31-1.181inch)
Best Magsafe magnetic Invisible Wireless Charger for Under Your Desk-UUMAO
As one of the longest-standing companies in the mobile communication industry with wireless charging solutions. Since 2009, we have started the R&D and manufacturing of mobile phone antennas and mobile phone motherboards. In 2016, we established a branch to focus on the research and development of wireless chargers. Over the last several years, the way we charge our devices has changed a lot.

UUMAO years of R&D experience make our solution the world's most reliable and safest long-range Invisible Wireless Charge for both your furniture and phone.

USB charging is fast, but isn't a perfect solution. Desktop charging cables look so messy. Repeated plugging and unplugging of the charging cable may cause damage to the mobile phone charging interface. For this reason, the use of wireless chargers is becoming more and more popular.

Whenever you want to charge your device. You just put it on the wireless charger. But even so convenient for charging. Your desk still has a wireless charger and charging cable.

But if you want your wireless charger to have a cleaner, seamless look, an invisible wireless charger is your best bet. These chargers are designed to project a magnetic field through a desk or table. You mount them on the underside of the surface, and set your phone or other device on top. It's perfect to fit under your desk. Or in the bedside table. But they can also be a great amenity for restaurants and other public spaces.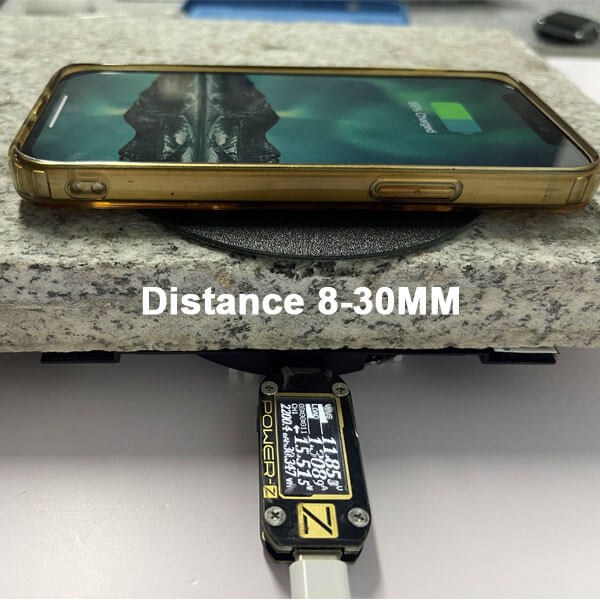 Today, we introduce you to our8-30MM (0.31-1.181inch)invisible wireless chargers。 that can be installed under your desk. here chargers are all designed to be compatible with all Qi-compatible devices. They're also easy to install, Will not cause permanent damage to your desktop or counter

UUMAO Magsafe Invisible Wireless Charger is a new double sided velcro ready-to-install all-in-one design. There is no separate mounting bracket. There are also no large pieces of double-sided tape. NO power tools, NO drills, No professional labour needed. Tear off the release paper from the double-sided Velcro tape on the product. Paste it under your desk. The Velcro is designed to be more flexible and can be installed in other places for product replacement. (We also gave away 2 extra The double sided velcro is convenient for you to remove the product and install it in other places at any time.)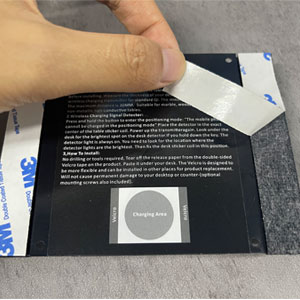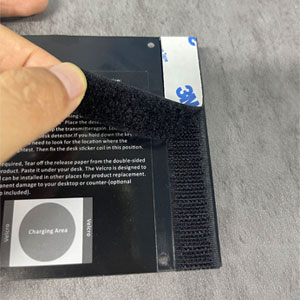 1) Material thickness,
UUMAO Magsafe Magnetic Invisible Wireless Charger is suitable for desktop charging of 8-30MM(0.31-1.181inch).
If your charging distance is not within this range. Note if it is too thin you could damage your device.
Suitable for installation under thick desktops. Suitable for marble, wood, glass and other non-metallic。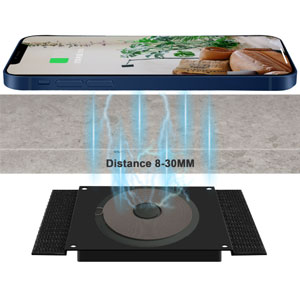 2)Wireless Charging Signal Detector
Press and hold the button to enter the positioning mode: "The mobile phone cannot be charged in the positioning mode" Place the detector in the exact center of the table sticker coil.

Power up the transmitter again. Look under the desk for the brightest spot on the desk detector.If you hold down the key. The detector light is always on. You need to look for the location where the detector lights are the brightest. Then fix the desk sticker coil in this position.
Be sure to place the detector where the signal is strongest. The brighter the detector light, the stronger the signal. for the best charging effect.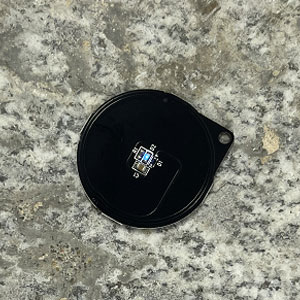 3)A note about the Magsafe magnetic desk sticker coil:
1-Principle:
The electromagnetic wave emitted by the large coil of the transmitter is collected on the table sticker coil. Focus the electromagnetic waves at the center of the desk sticker coil.

Because the diameter of the receiving coil of the mobile phone is only 45MM. Therefore, the table sticker coil must be used to gather the signal of the electromagnetic wave. If not using our included desk sticker coil. It will cause the electromagnetic wave signal area to be too large. The phone will be heated by excess electromagnetic waves. As a result, it may damage the phone or charge too slowly and overheat. And the charging distance will be shorter. (So you have to use our desk sticker coil)

2- A variety of table sticker pattern options:
We also think desk sticker coil are not good looking. Therefore, we have prepared a variety of patterns for you to choose from. You can mix and match by yourself. The lightning bolt icon at the center of the table sticker. With luminous effect. You can find it instantly, even in the dark of night.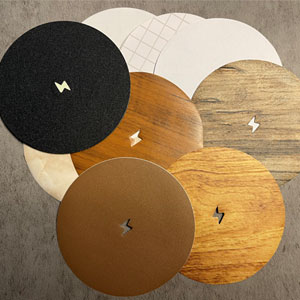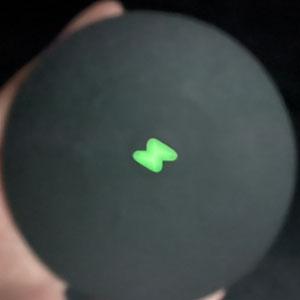 3-Magsafe magnetic desk sticker coil:
The Magsafe magnetic version is suitable for iPhone 13/13 Pro/13 Pro Max/13 Mini/12/12Pro/12Pro Max/12 Mini, airpods3, and the upcoming Apple 14 series phones. It is also suitable for wireless charging of all other devices that support QI charging.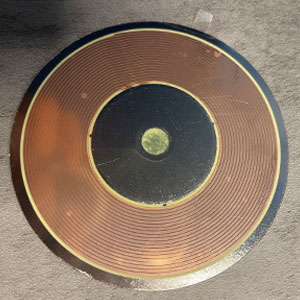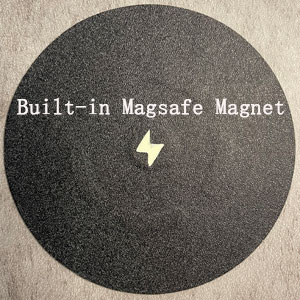 4),Charging Parameters:
TYPE-C input: 12V/9V-2A (please use our included PD20W adapter)
output power: 10W/7.5W/5W
Effective charging distance: 8MM-30MM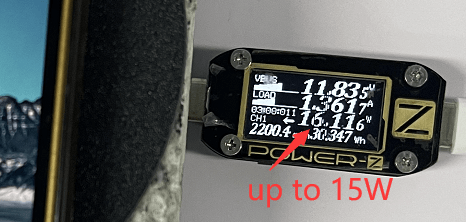 5)LED light display:
Power on: the blue light flashes for 1 second
Standby: Green light is always on
Charging: the blue light is always on
High temperature or FOD foreign object alarm: blue light flashing

6) Security protection
Such a perfect Magsafe Magnetic Invisible Wireless Charger. Circuit safety protection is a must. This is what our R&D team does best. This highly integrated chip has overcharge, overcurrent, overvoltage, overheating, and FOF foreign object recognition functions. The safest way to charge your devices.